A new world
destination is calling
Globally over 300 million people travel to sun, sand and sea destinations every year. But Goa currently attracts only about 1 million of them. Industrial and infrastructure development in Goa is on the fast lane, poised to boost business traffic. Besides, nearly 3.7 lakh Goans live overseas, driving demand for travel. Despite all of this, the absence of direct connectivity to the State presents a bottleneck.
Result, the growth and economic potential of Goa, which has the highest per capita GDP in India, was getting constrained.
Presenting the need for a 24 / 7 connected airport that will help unlock the tremendous potential of Goa and her people.
A green field project being developed in Mopa, North Goa on a public private partnership model between the Govt. of Goa, Govt. of India and the GMR Group. With a platinum level pre certification for green infrastructure, unwavering commitment to carbon neutrality, renewable energy initiatives, the New Goa International Airport will set new benchmarks in sustainability. 25% of the power consumption at the Airport will harness the power of the sun.
Besides, significant efforts are underway to replenish and grow the green cover in and around the airport.
World class facilities will ensure seamless operations and a hassle free, joyful passenger experience, every time.
The foundation stone for the airport was laid by the Hon'ble Prime Minister Shri Narendra Modi in 2016, It is now being inaugurated by the Prime Minister in 2022.
Destination Branding is coming of age. Where a place creates a unique feeling. Through a careful design of the overall brand and experience, physical and digital to evoke a special feeling. The place is no longer just a modern, fresh and functional space but a living, breathing construct and Brand in the heart and mind of the experiencer who immerses in it and is touched in unforgettable ways.
At the New Goa Airport, the attempt is to make every traveller 'feel Goa' even before (or after) they experience many new facets of Goa physically. It is India's first Destination Airport.
The intention is to have high operational standards, sensory experience, and personal interactions. To be a space that is hygienic and helpful, has a happiness quotient and many new hurrah moments. The human experience arc is being thus designed.
Designing a Destination Airport Brand and Experience
A detailed, multi-phase, research-based approach to collect information and develop insights about the airport consumer, other stakeholders, and the destination of Goa has been deployed to design the brand strategy for the New Goa Airport.
Our work involved understanding business' internal vision and objectives with clarity on assets, portfolio, service offerings, features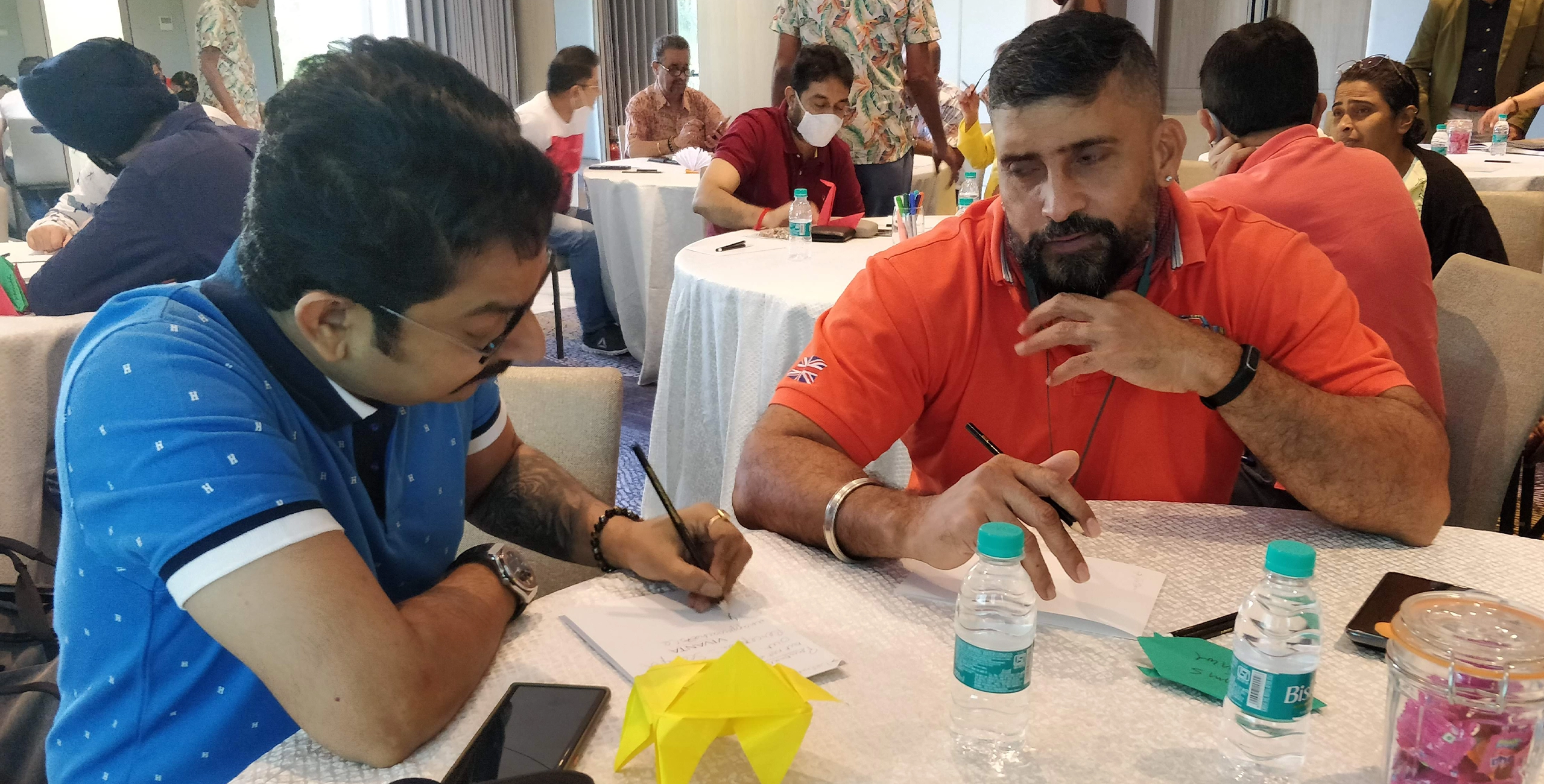 Understanding the perspective of other stakeholders. Developing the Strategic Brand Identity: The Vertebrand Arrow™ and the Vintellity Workshop to distil the brand essence.
A significant challenge is that for the Name of the Airport : The Government of Goa has reserved the right to name the airport and may do so close to the airport's COD. Hence, a standby name will have to be used for completing the branding exercise.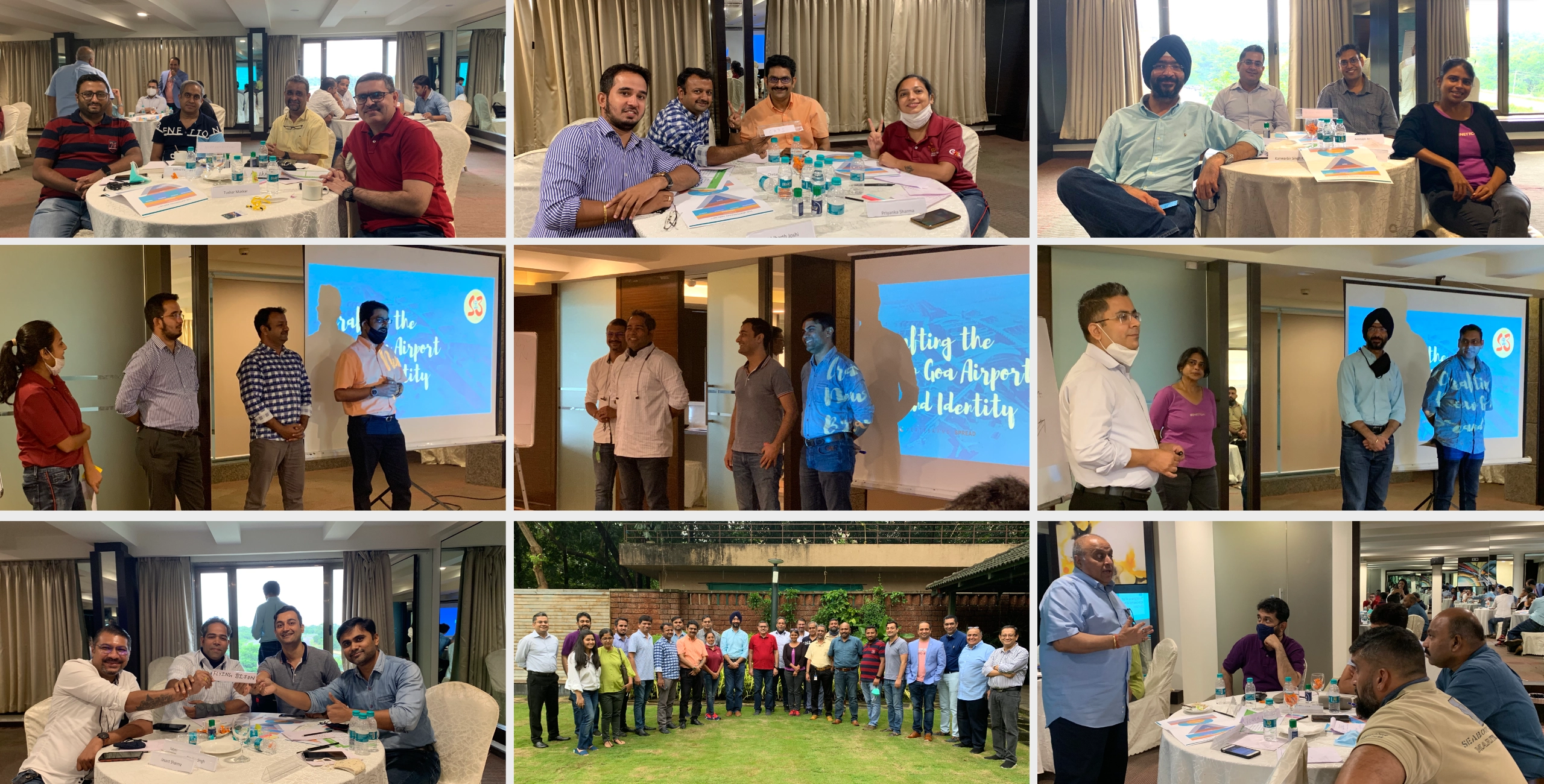 Understanding the Airport Consumer: Mapping the emotional mind space, needs, expectations, preferences, consumer perceptions. Spread Strategy folks conducted 23 personal in-depth interviews across a cross-section of people, both from Goa and those who travel there. Conducted 8 free-wheeling appreciative enquiry groups (over 45 people in all) for the same. The aim was to decode wishes and aspirations of all possible travellers and businesses, plus to uncover Goa: its culture, its past, present and future, and its elusive spirit.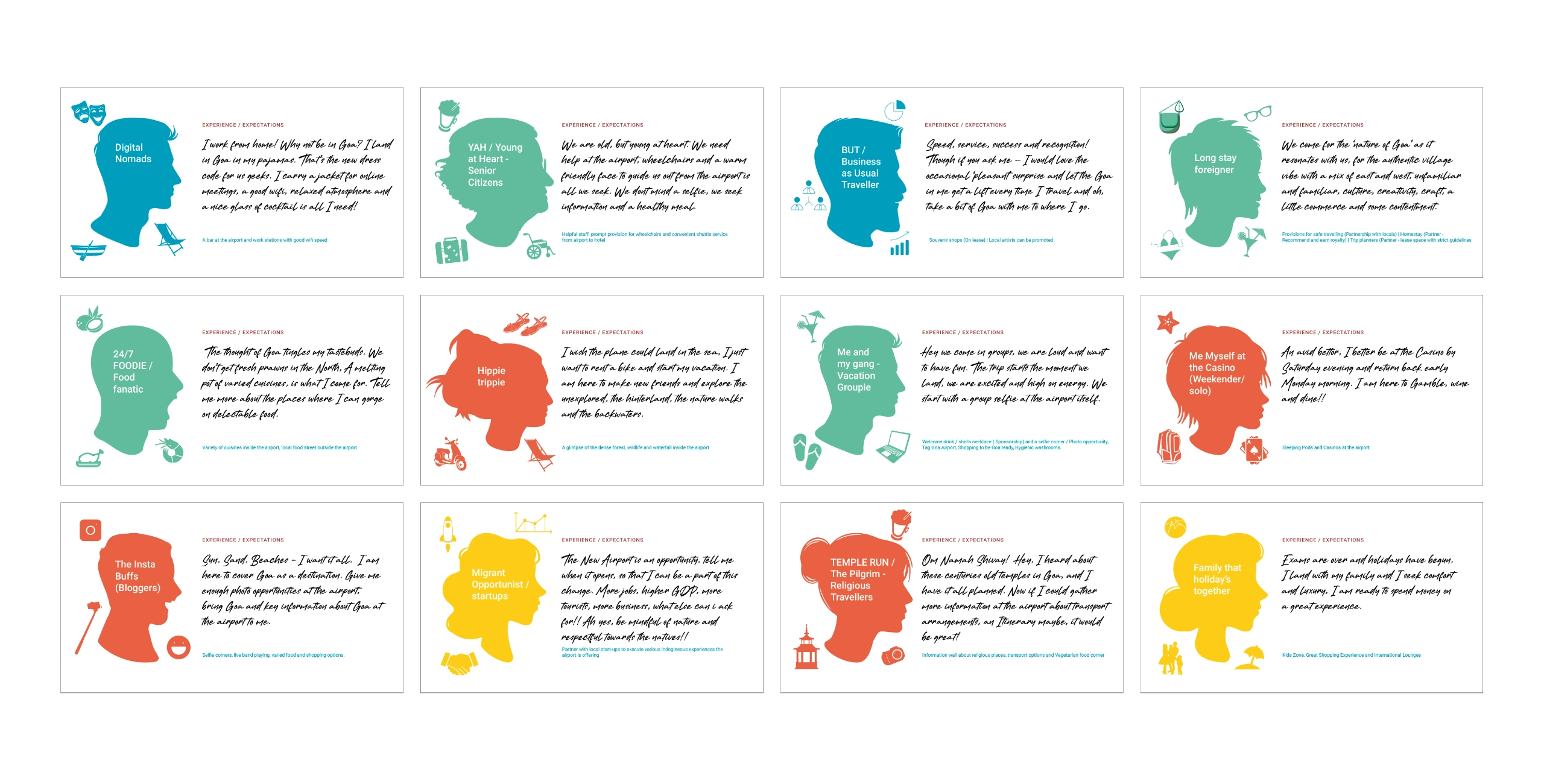 A creative and immersive exercise among members of the new airport team to explore their Travel Experiences and Inspirations, and their Expectations and Dreams for the new airport. Creative engagement and responses from 48 people of the GMR GOA Airport team and another 40 or so of the GMR Team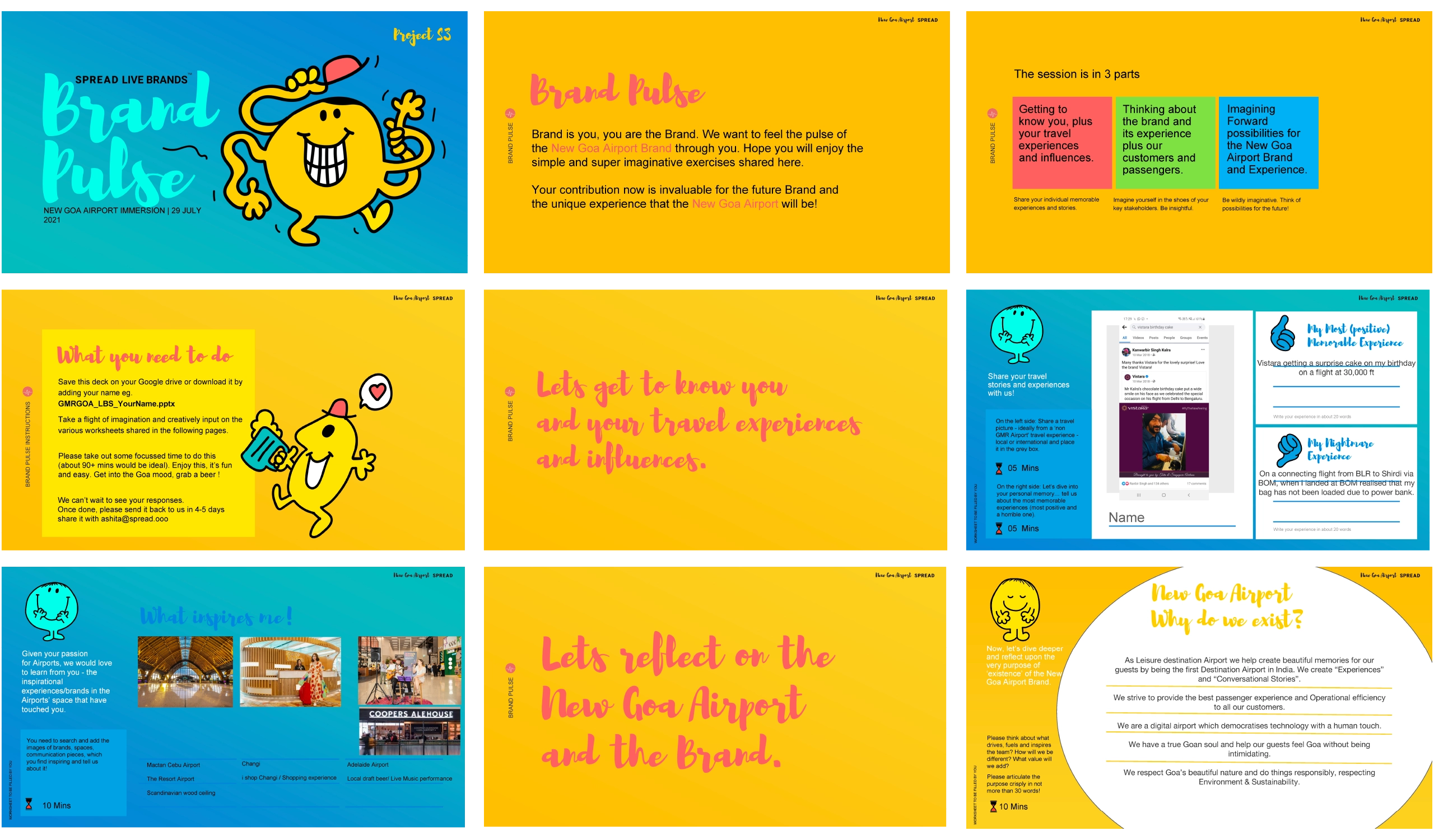 Over 13,000 conversations across social media, feedback portals, complaint forums etc. were analysed using AI/ML based NLP techniques to map the key dimensions of airport experience, both in India and abroad. We identified the key category drivers, the areas of concern and delight, and how individual airports perform on them.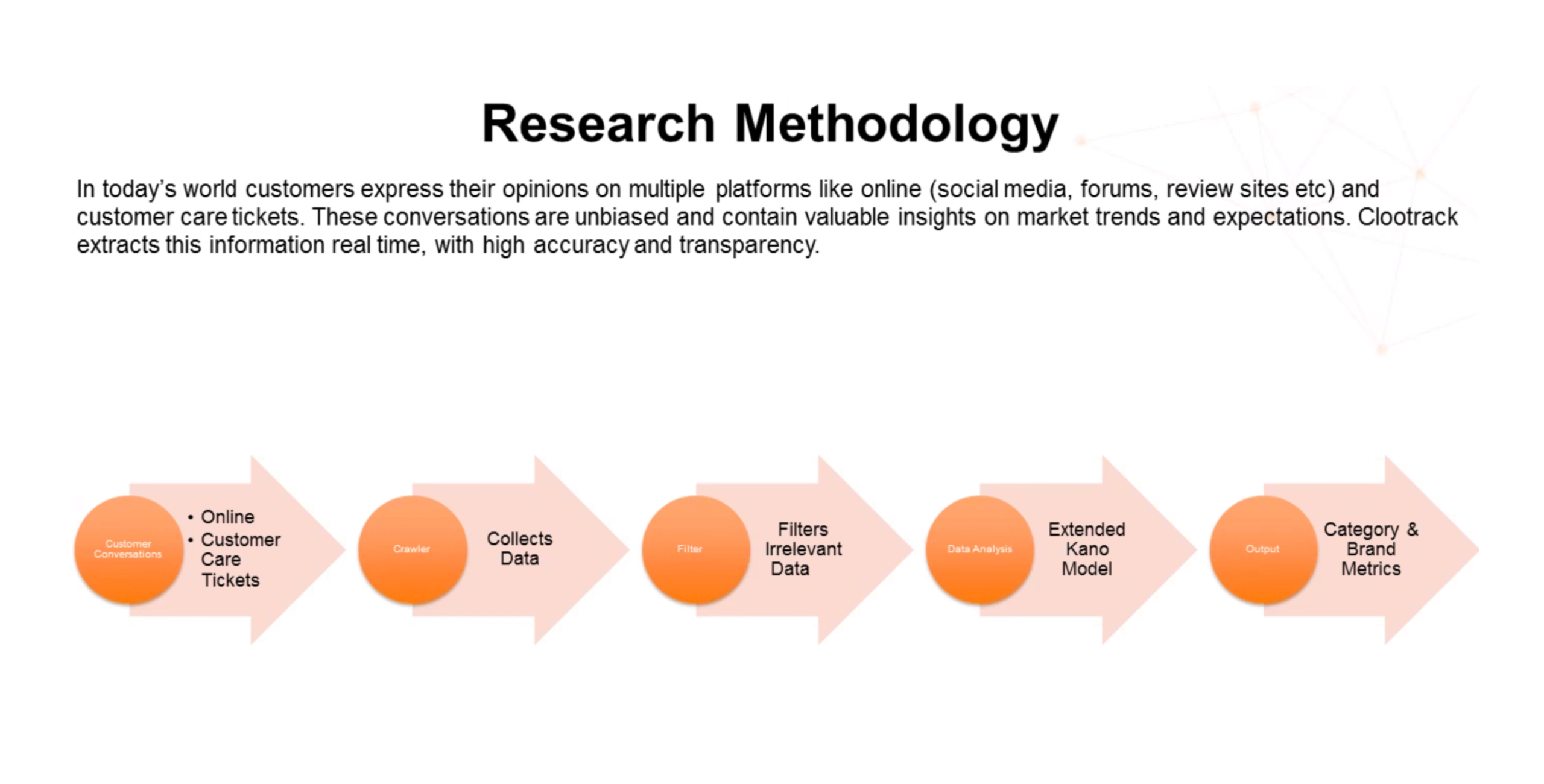 Destination Brand Strategy
A new approach to airports' development is emerging. Where airports are seen as not just vital infrastructure but destinations in and of themselves. Where passengers get a sense of place, enjoy their time and mark the airport and surrounds as a place of significance in and of itself.
Goa is a unique and special national and international destination, the airport is being designed as a modern, light space with new and stylish hues, with art and design in its surrounds. A 2000+ acre airport city is also being developed, to give new opportunity and growth to a hitherto ignored region of Goa.
Hence, a place or destination strategy was seen as the way forward. Creating the need to define the brand and experience at the get go.
The Internal Vision for the new airport is to be seen as "India's Window to the World", as India's first true Destination Airport.
The objective is to deliver a state-of-the-art modern airport with the "real Goan soul, combined with GMR's signature passenger experience". The airport experience should encompass the dream holiday at Goa: Your Holiday Starts and Ends Here.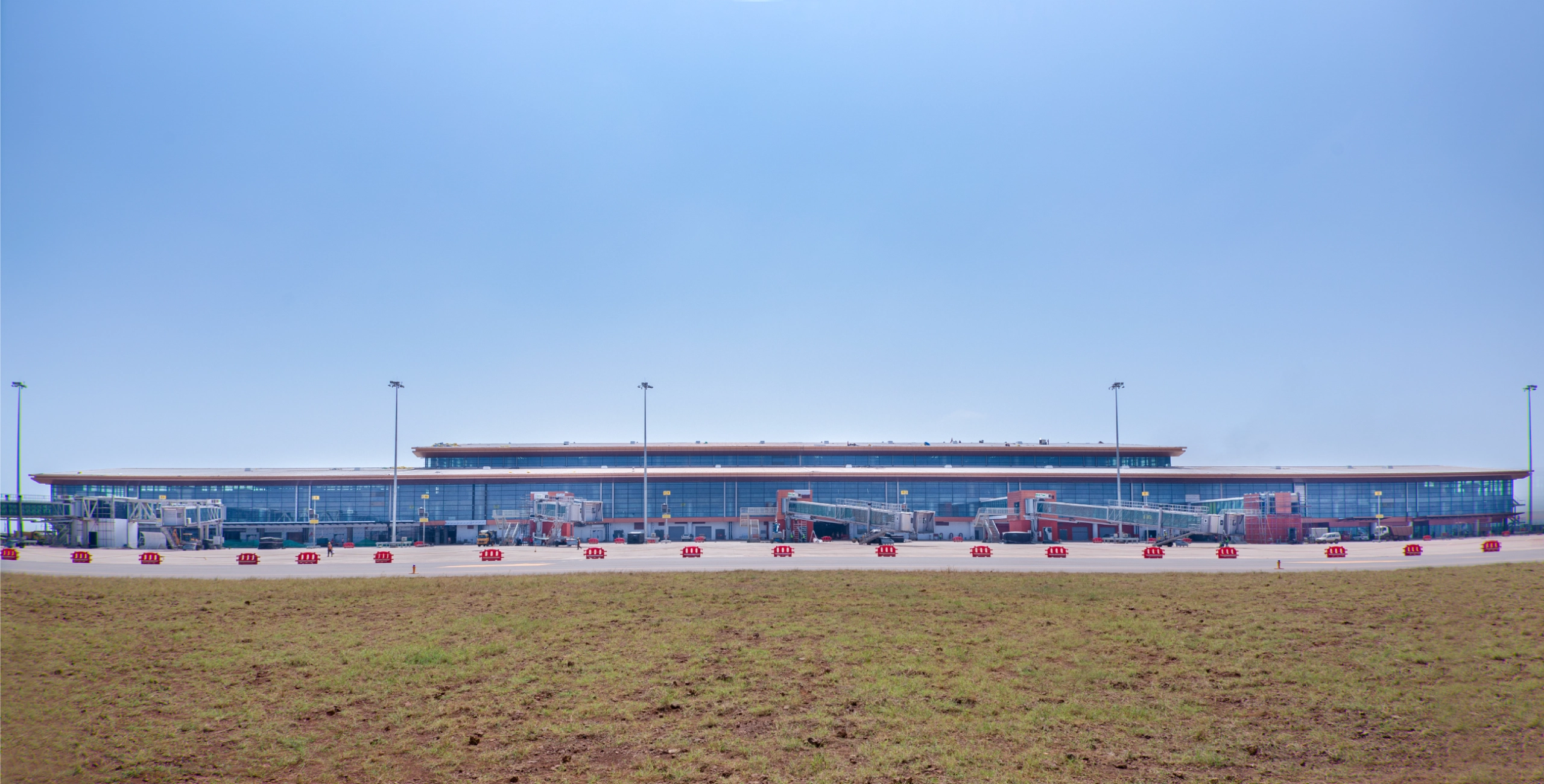 The Promise : Delivering a New Goa unconstrained. Responsibly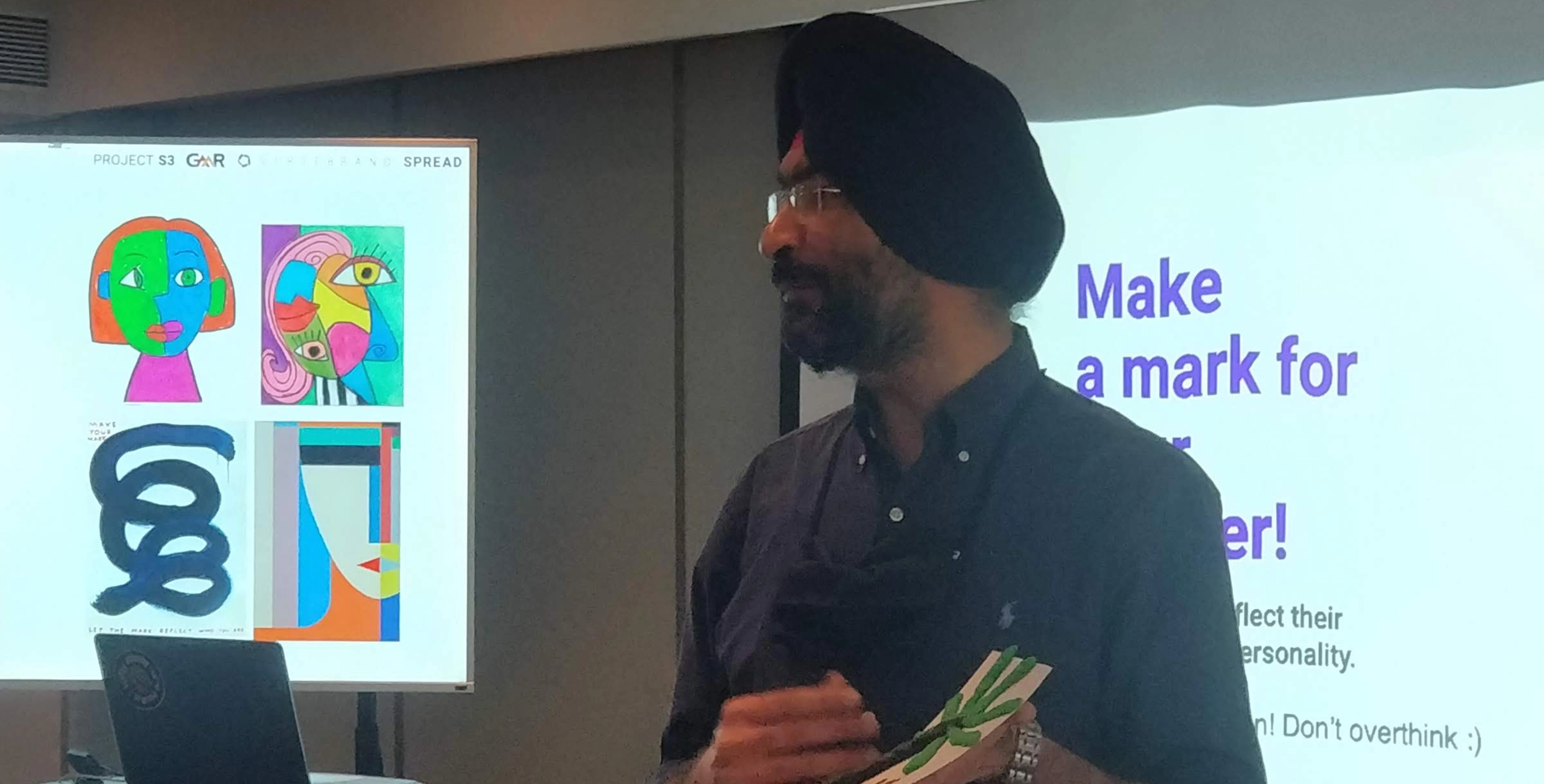 New Beginning
A creative and immersive exercise among members of the new airport team to explore their Travel Experiences and Inspirations, and their Expectations and Dreams for the new airport. To define their expectation and aspirations.
New Vibe
Mapping the geography, the history, culture of the emergent Goa and the positive possibilities. Along with the leadership team. To define the service experience and the destination of the New Goa Airport, in the context of a New Goa.
Live Brands (Spread approach) : Brand is a construct that is alive in the heart of the one it touches. Moments and experiences are ways to forge a connection. Brand is a unique feeling you feel when you feel a feeling that you have never felt before.
A two-day detailed workshop was conducted to craft the Strategic Brand Identity for the New Goa Airport. The workshop was a co-creation exercise with over 25 key members of the GMR Goa Airport team.
Goa is ready for a new beginning, new opportunities and new growth. Our Airport shows the possibility, the glimmer of the new Goa. The experience and brand are designed to evoke the new Goa. Our stance and our every effort is directed towards one objective. A sensory experience so that every traveller can #feelgoa
There's something in the air in Goa. The sussegad spirit of Goa, a balance of work and life, an understanding of what it feels to be alive, vibrant and free. It's a spirit that lives within each one of us and gets kindled like a cool fire within us. The positioning though thus is 'Feel Goa'. It's when you feel truly alive.
The Logo represents the opening up of a new destination. And a sustainable new wave of prosperity and growth.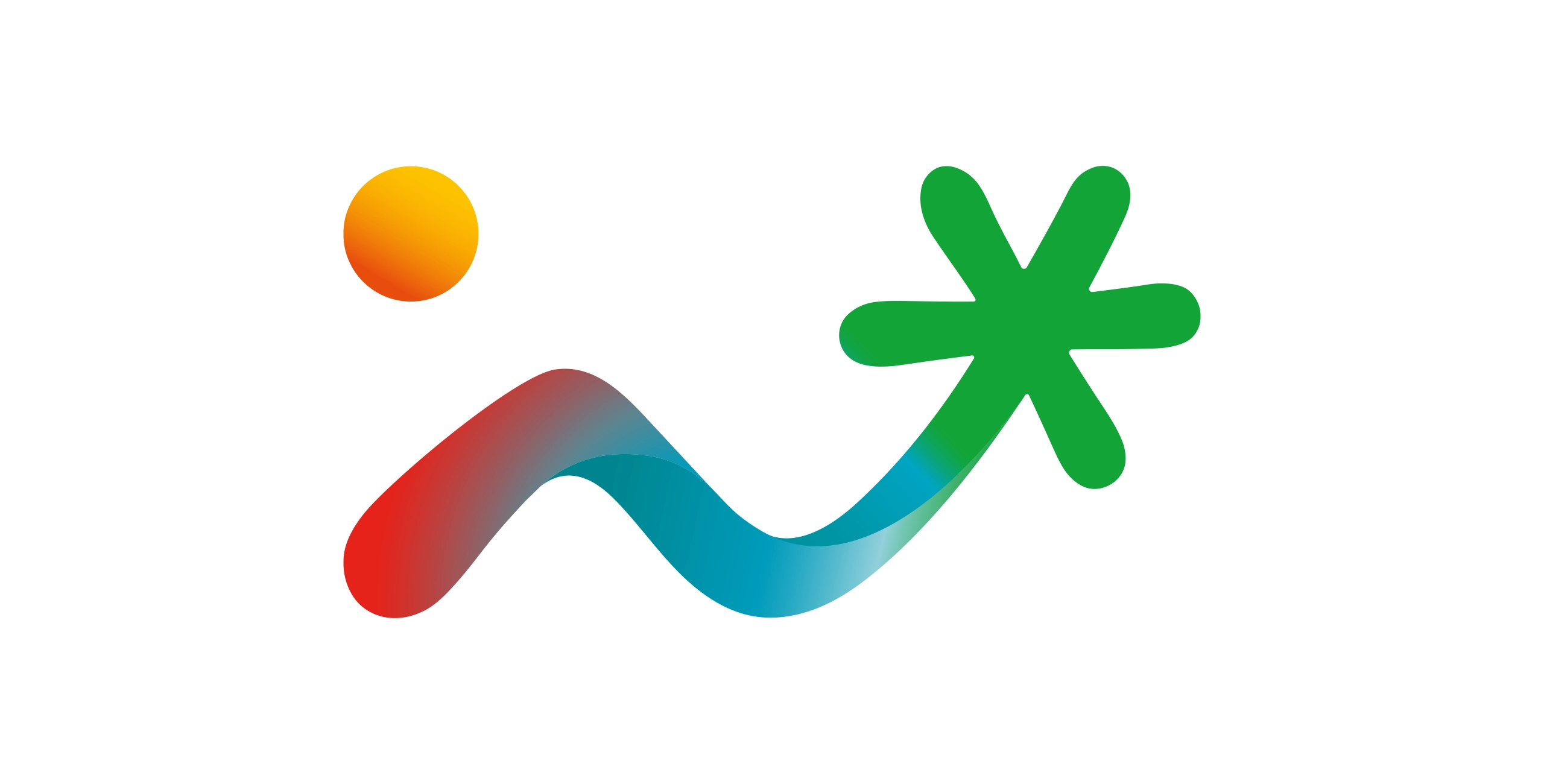 A new location, a new destination, and a new wave of commerce, tourism, and growth with fresh energy in harmony with nature. The New Goa Airport logo is a hand-drawn, vibrant, simple and dynamic symbol of expression. And a wholly original complex, yet simple form that has room for individual interpretation.
The airport logo paints a picture in your mind of a hammock tied to the trunk of a palm tree swaying in the salty breeze. The blue skies look over the gentle waves with the warmth of the sunlight that shines over the rich laterite mountain. The whole sum of the experience of a verdant paradise brought alive through a vibrant artistic stroke.
Hand-drawn and coloured artistically, careful geometry has been applied to make the mark balanced and geometric, without losing its hand drawn character.
Creating a language that is familiar and has the codes of the new Goa embedded. Patterns that are an ode to Azulejos tiles and designed afresh to communicate a new experience. That includes sustainability, entertainment and celebration. With a palette that is fresh and applied consistently.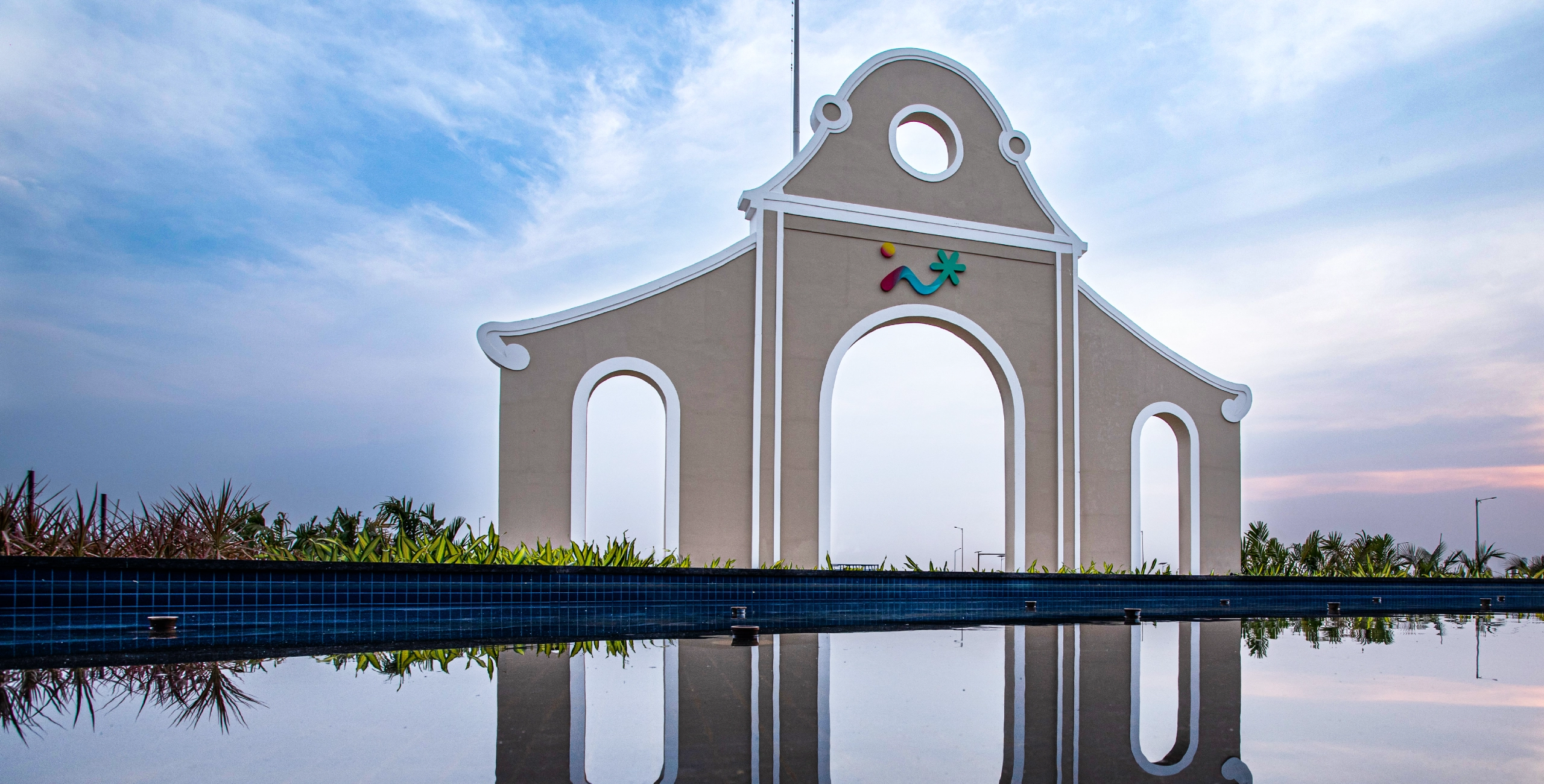 Journey through village roads
Using the patterns and brand colours and developing massive stencils, to do a fast and sustainable job of refreshing the village roads, underpasses etc. Simple techniques for scalability. Quite literally, we have been painting Goan village roads to refresh them and design both the early and the ongoing experience. We hope to make Google maps redundant and create anticipation and a sense of ease while travelling.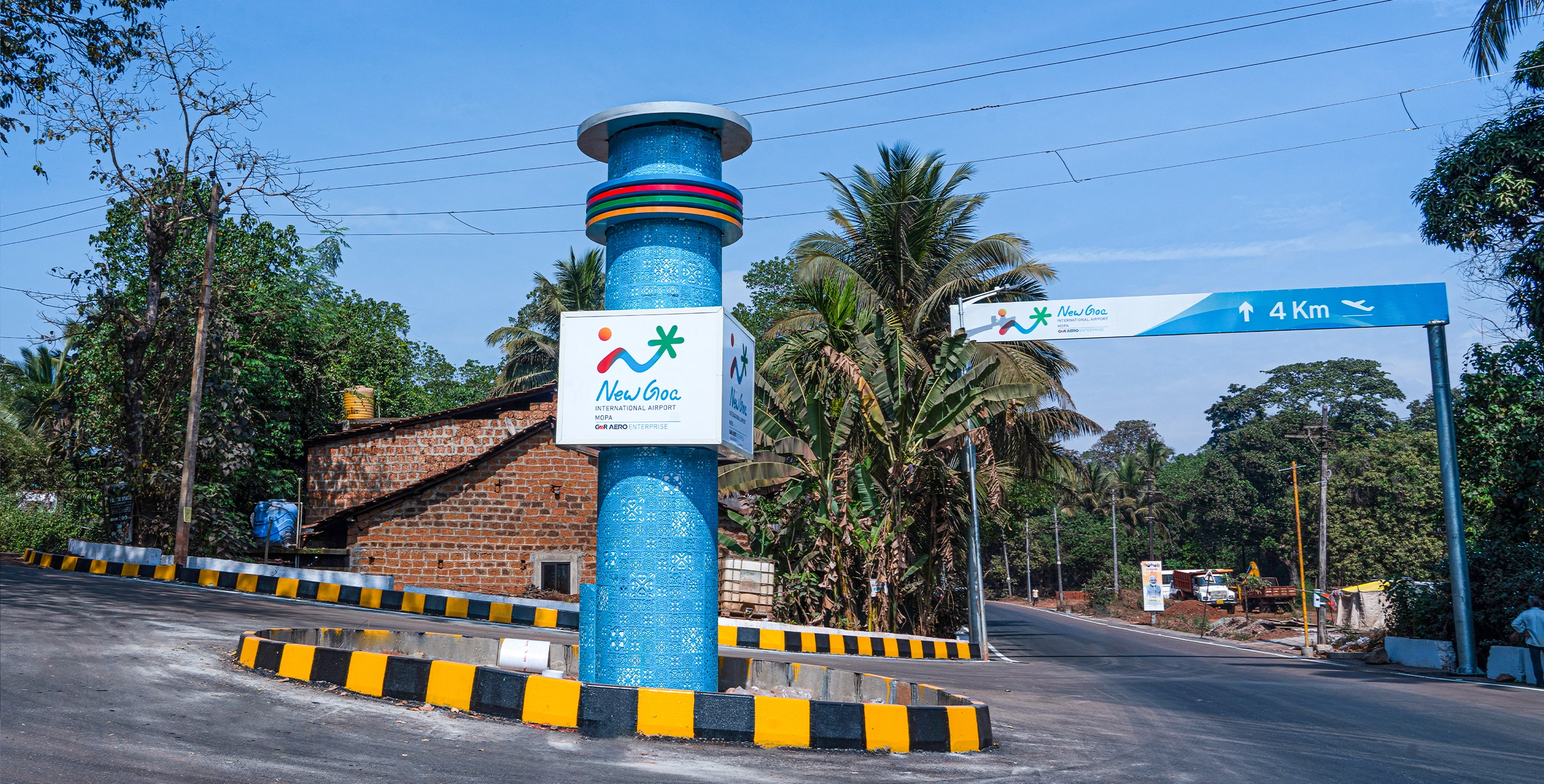 Marking village names with supertype to sensitise the travellers to the villages they are passing through. Highlighting that Goa and especially North Goa is a continuum of several proud and unique villages.
The Junctions pay tribute to the stambhas of yore… decorative streetlights and patterns dress up the roads, along with vibrant flags to signal a new and exciting destination.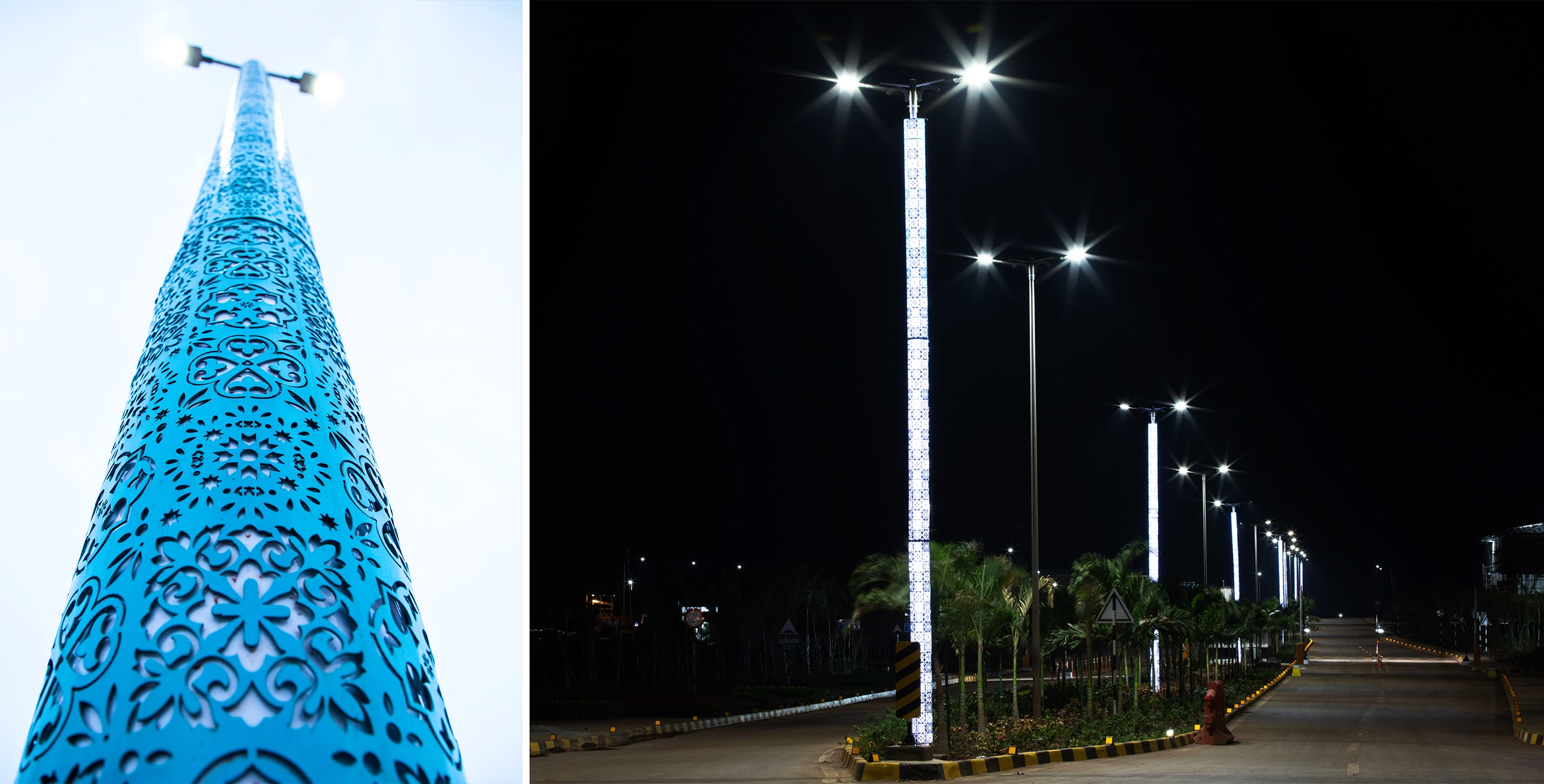 As a very very different approach to view cutters which on most project sites nationally and globally would just be just vinyl prints – we created and GMR GOA invested in metal screen view cutters on cement blocks, giving us mobile walls for an evolving project. Saving money in the long term while adding to the beauty of the surrounds.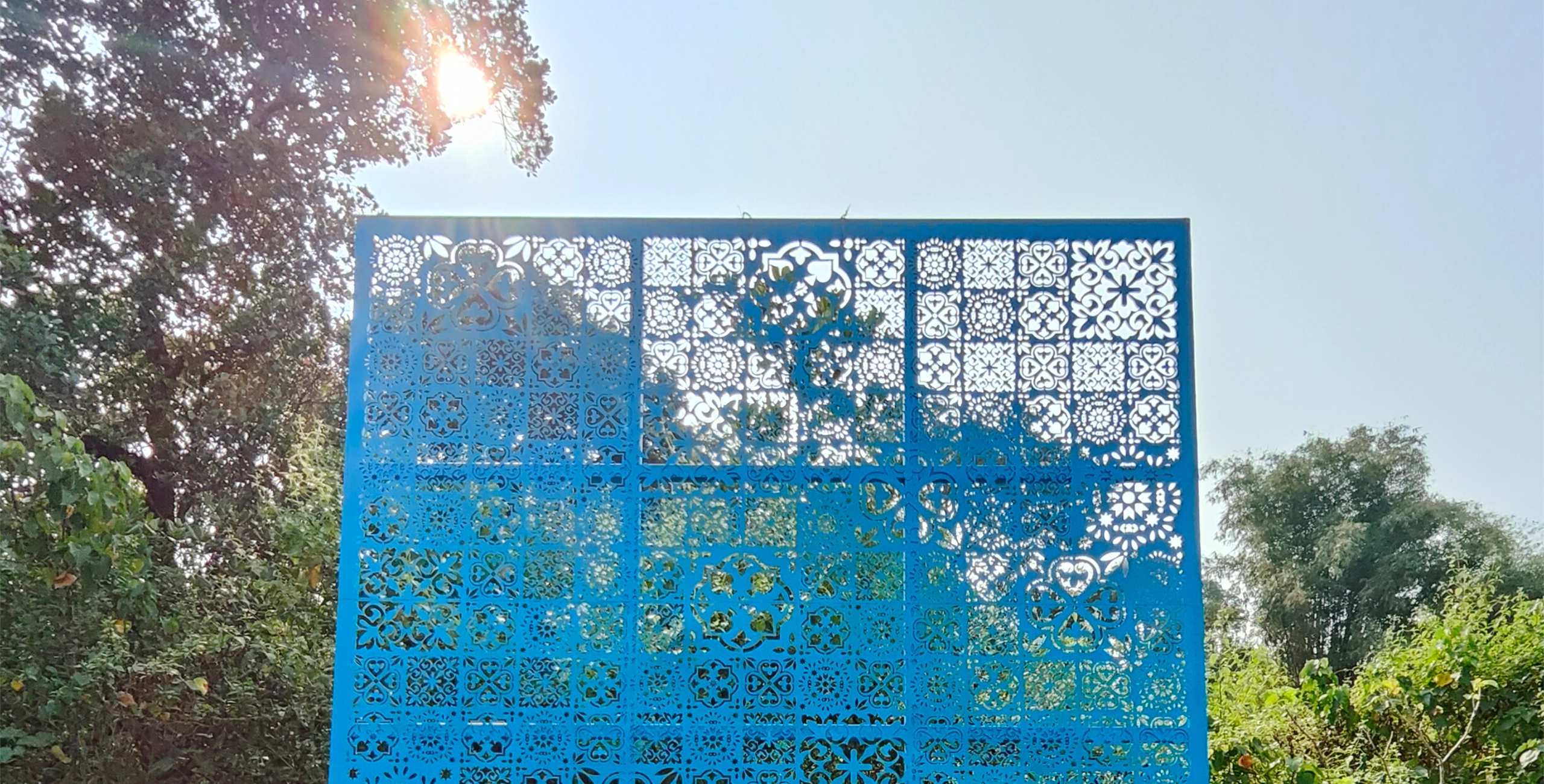 To communicate and connect in a playful way with every new traveller while creating anticipation for an exciting new destination – we found an exciting way for the airport to say hello as you land. With a 100 ft airside logo. That of course is designed to capture every possible air water landscape of Goa.
The Lead up to airport includes a giant efforts and many unique designs and production of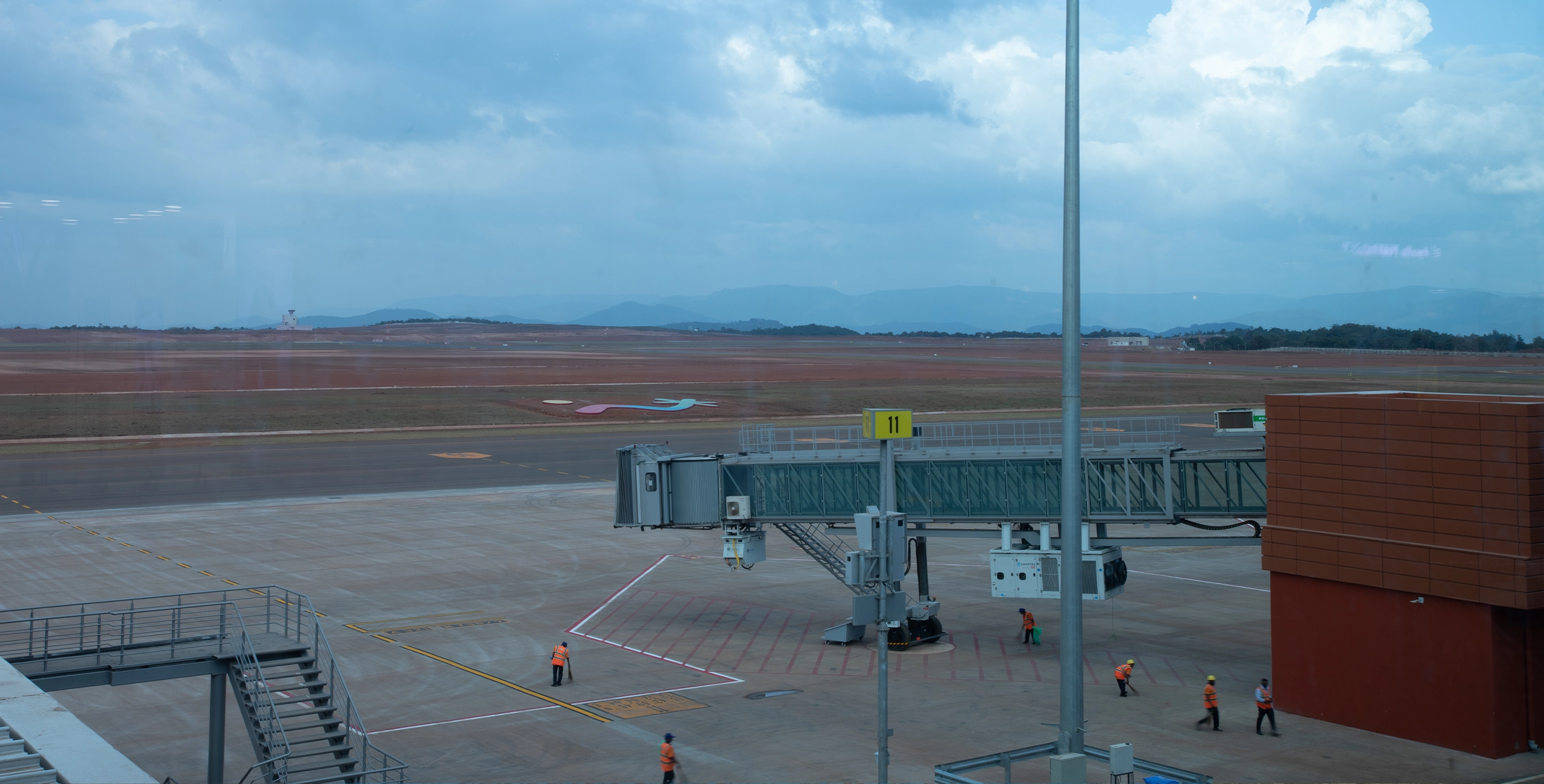 The internal people brand and call is to 'Be the new' as the employees on ground that travellers come in contact with are the best living, breathing representation of the brand, defining the first and last impressions of the new Goa. They must authentically own the new Goa experience and 'be the new'.
An internal launch that included onground partners where the values and experience valences, the plans and expectations were shared so that the brand has ownership by every stakeholder. / 0811'22
The response was a sharing on social media by every level of employee of 'our logo'. The logo has even been found as tattoos on the team 🙂 Real ownership and a shared understanding of the idea that an Airport can be beyond infrastructure, beyond uber design to be a brand and experience, delivered by every individual who touches every passenger with an authentic, empathetic, vibrant spirit.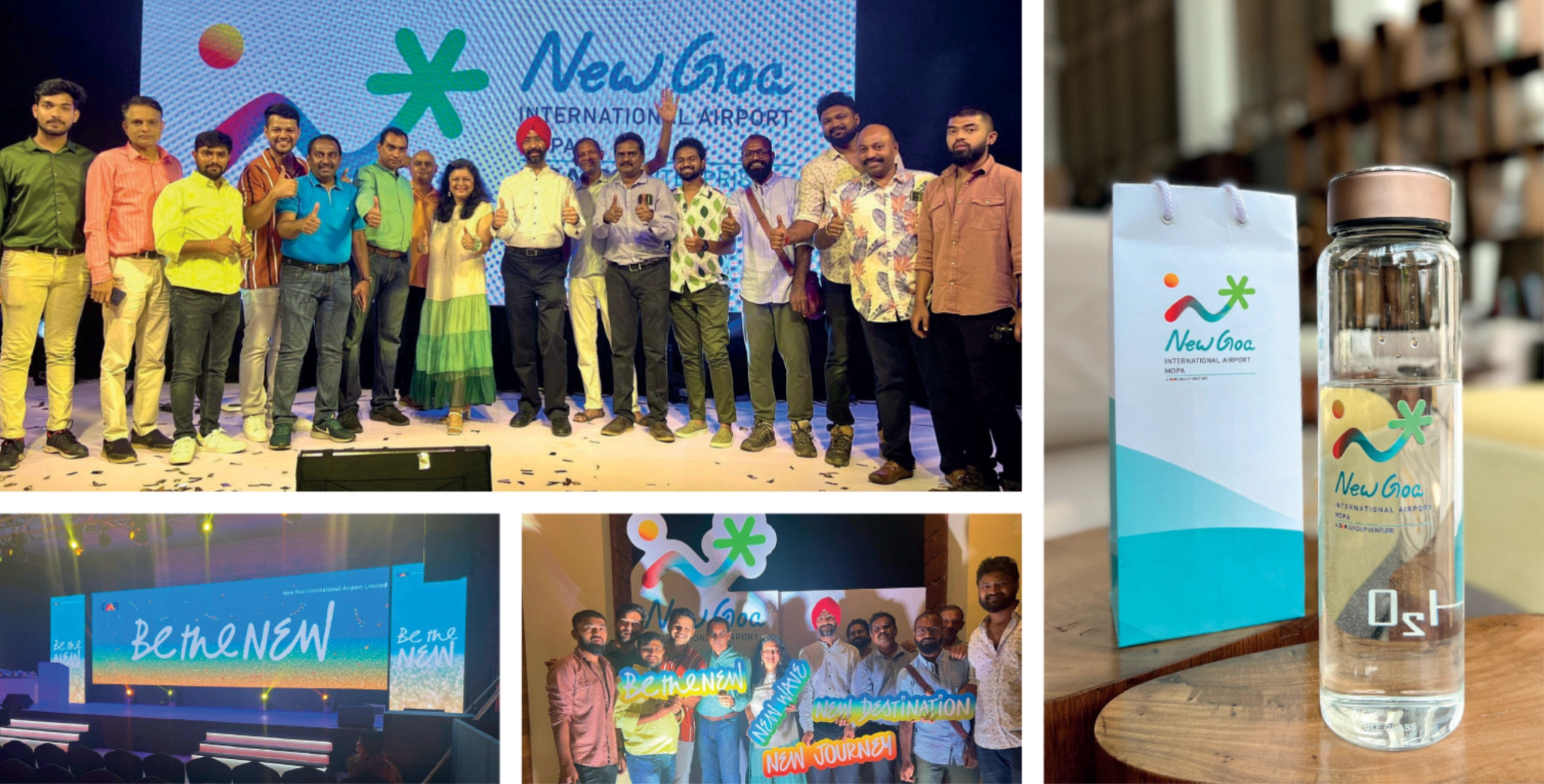 How might you feel a new Goa as soon as you land? Or one that is even just taking shape given its two airports providing this global village which is a continuum of unique and beautiful villages.
Mood Films to capture, share visual and poetic and dynamic visuals that evoke a sense of time and space. Spread Film has its most exciting, incredibly stressful responsibility, challenge and opportunity. To evoke the new Goa that is so much more, beyond sun and sand. An ongoing project. Where the medium (the airport and its many screens) becomes the message. And you can feel a new Goa even before you leave the airport.
With programming for mornings, many noons, evenings and nights. So that when you land in the mornings, you will experience Goa mornings, noon at noon, glorious sunsets in the evening…and you get the drift.
We are on a mission to boost Goa's local economy, by celebrating the Art, Crafts and Culture and touching the lives of artisans, farmers, craftsmen, and thousands of Self Help Groups in this enterprising State.
Prakalp Goa / Projeto Goa serves as an inclusive platform for the local art, craft, produce and products made only in Goa. Our aim is to take the local global, make Goan communities self-reliant while bringing alive the soul of Goa at the New Goa International Airport.
It will help create new exposure, encourage the new creative economy, infuse new energy and excitement and forge an emotional connect with the creative spirit of Goa.
Through Projeto Goa, a local art, culture, design and entrepreneurship initiative, the New Goa International airport will showcase the new Goa to the arriving and departing passengers.
Creating new economic opportunities, transforming lives and livelihoods, the New Goa International Airport will act as a growth catalyst for the nation's most popular holiday destination and most prosperous state
Highlights of Project Goa Under the Coconut Tree
Marking village names with supertype to sensitise the travellers to the villages they are passing through. Highlighting that Goa and especially North Goa is a continuum of several proud and unique villages.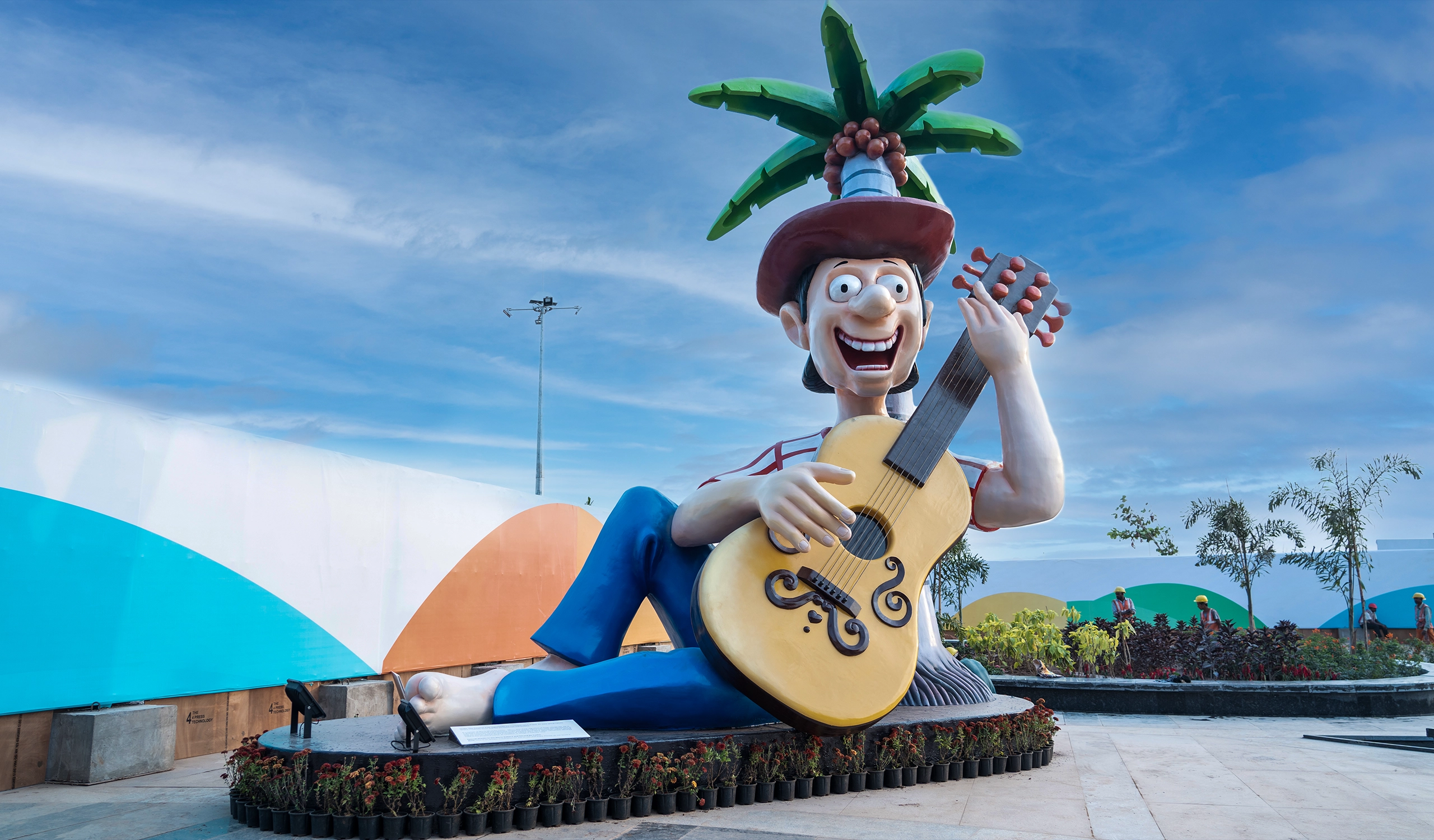 As a very very different approach to view cutters which on most project sites nationally and globally would just be just vinyl prints – we created and GMR GOA invested in metal screen view cutters on cement blocks, giving us mobile walls for an evolving project. Saving money in the long term while adding to the beauty of the surrounds.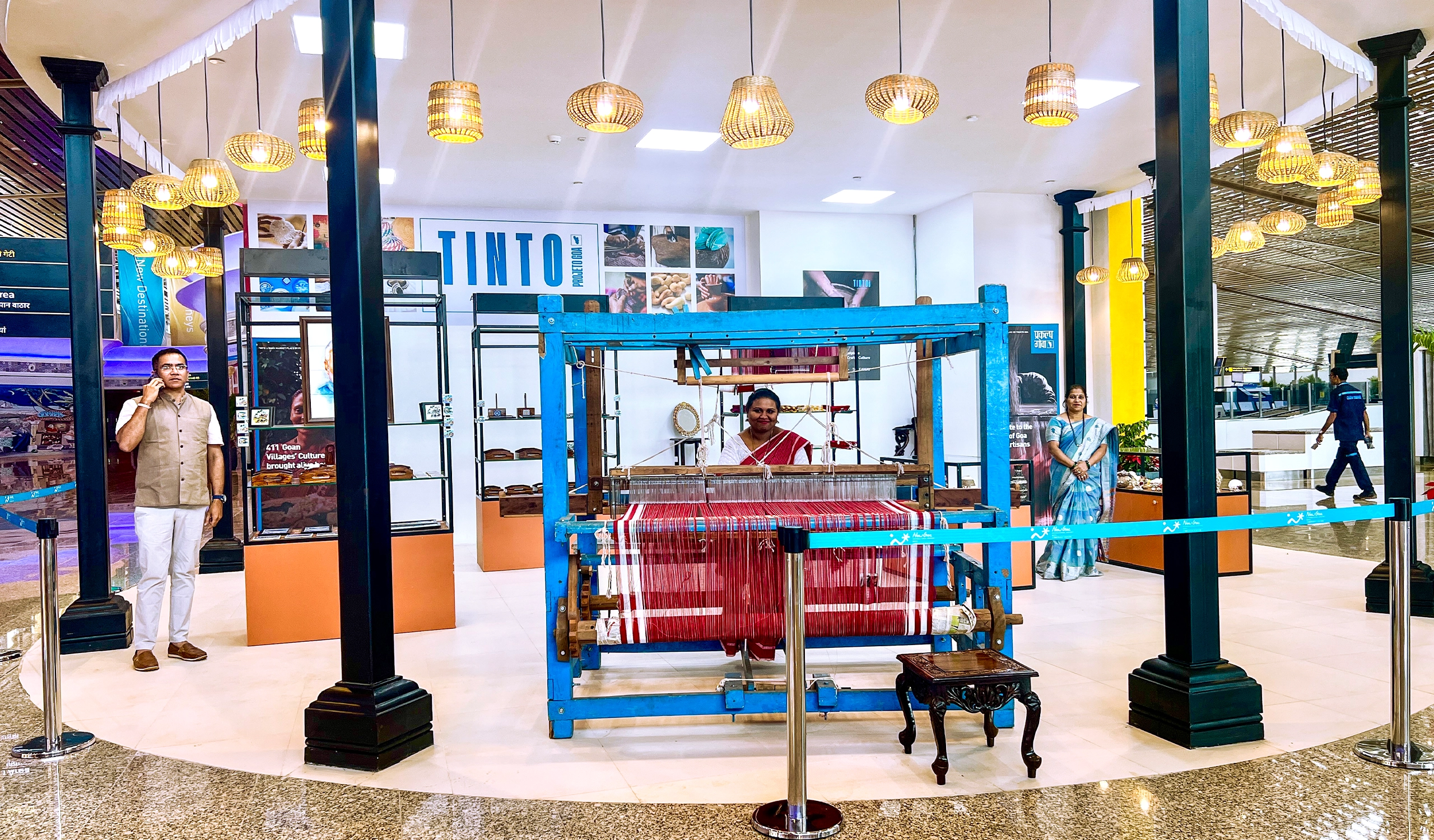 This installation is a welcome post, as well as a souvenir to take back home, as you arrive or depart in the new International Airport. The families of those visiting Goa will be able to take selfies and build their first memory with Goa as this signboard oozes creativity with its presence. With a bold and informal font, the board awakens the 'hippie' within each and every one of us – creating the impression of a 'hip' and 'happening' land. The heart symbol in the O of GOX is just the icing on the cake as you take back lasting memories from an unforgettable trip.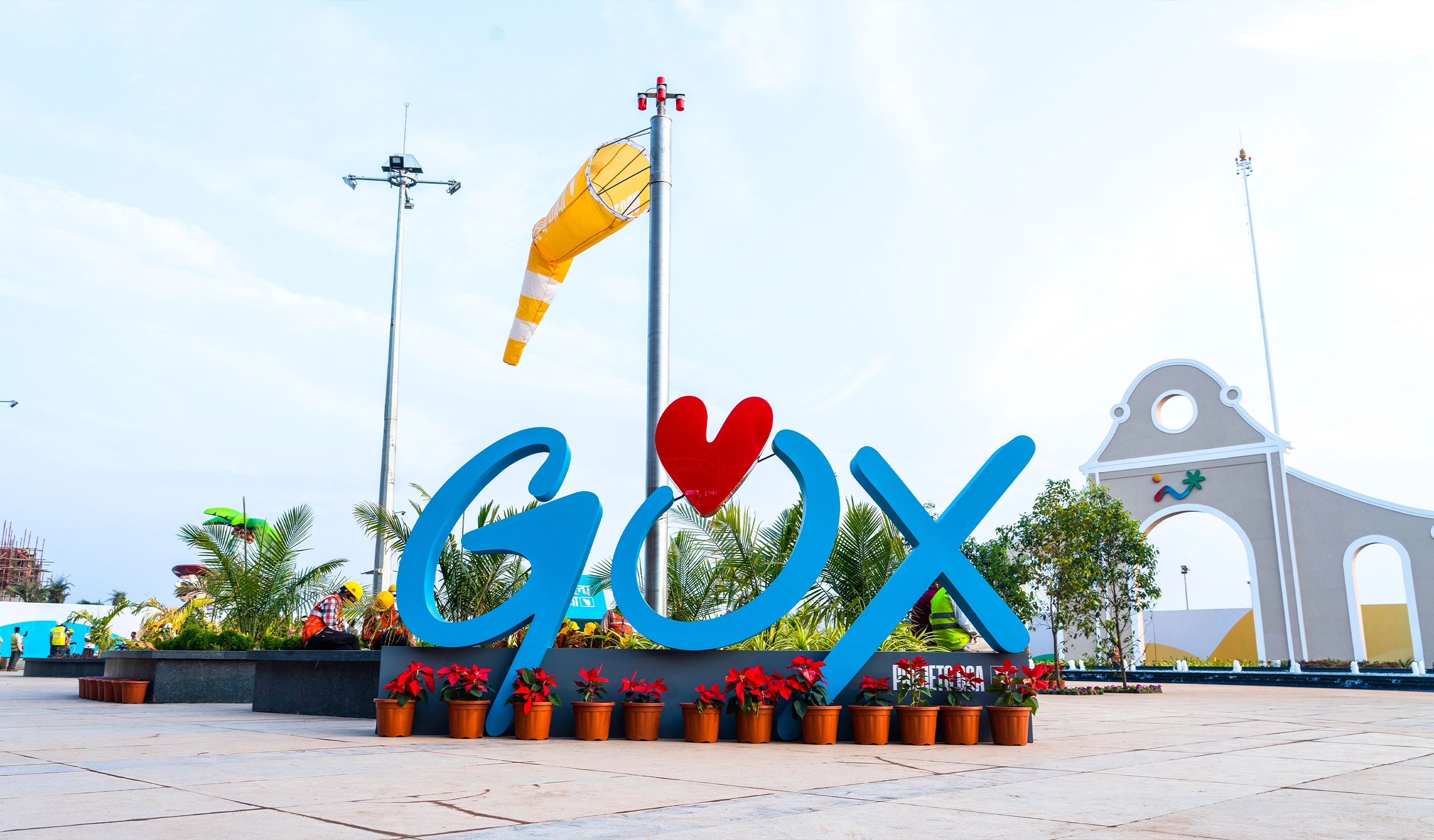 We are joining the people of Goa to inspire the next generation of Goans
To Dream Big Dreams, building a New Future around this Global destination.
Unlocking New Opportunities. Experiencing the next. Uncovering New Destinations. Unlocking new growth with New Businesses. Feeling a New Feel, unfelt new vibes and a new buzz.
The New Goa International Airport is a GMR Aero Enterprise – built as a partnership between the GMR Group and ADP.
Powered by the vision of creating an institution in perpetuity, serving the nation since 1978, the GMR Group develops world class projects in high growth areas such as Airports, Energy, Transportation and Urban Infrastructure in India and abroad. GMR Aero Enterprise is the world's largest private airport operator. Building connectivity and enabling better experiences, everyday, GMR is also the only Indian airport developer to have developed and operated airports outside India.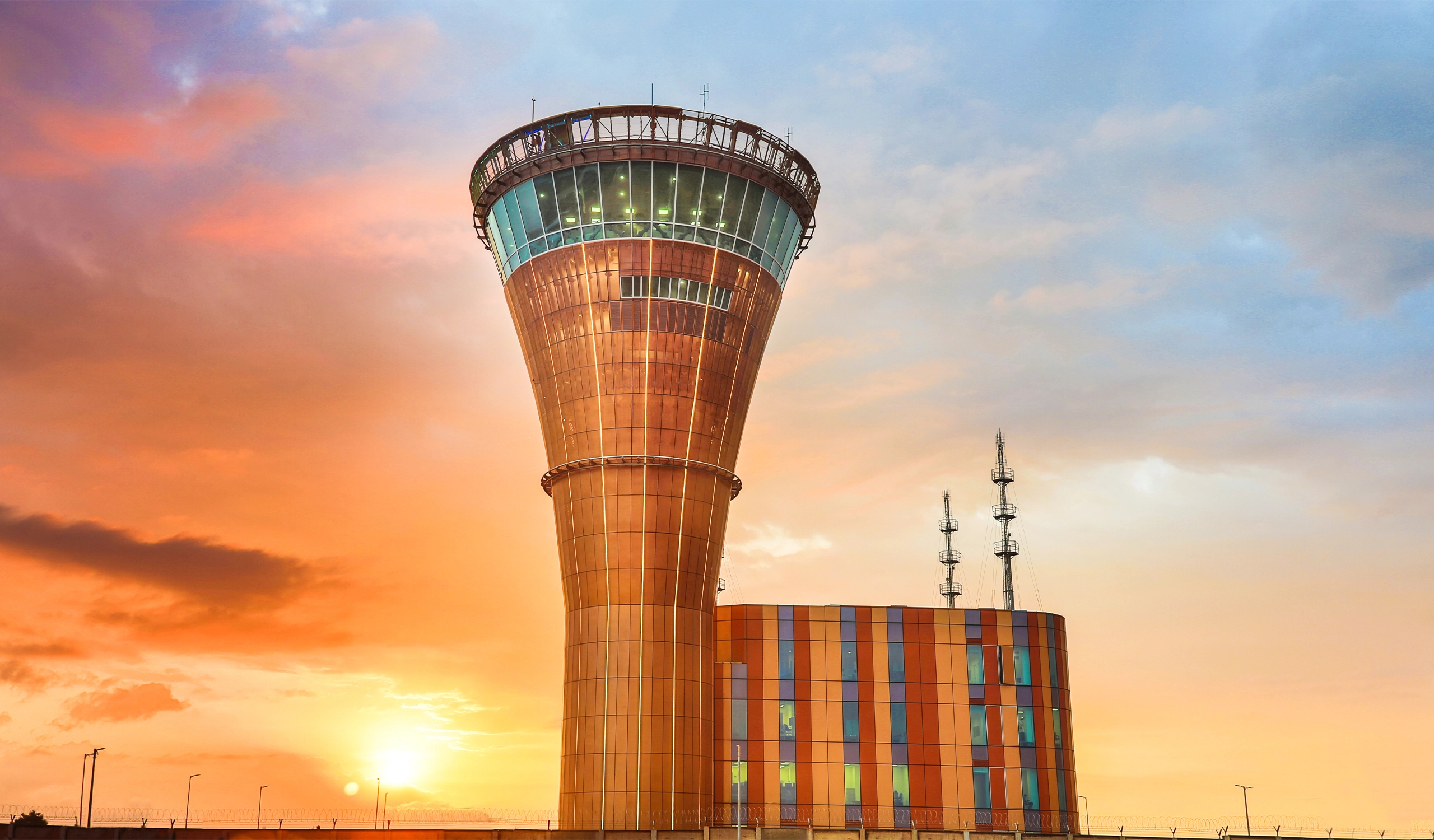 Spread is a Design House with a presence in Bengaluru and Brussels. With deep expertise in Strategy, Brand and Experience, Digital and Film. Design Barn is a Spread initiative which is an independent design center and incubator of innovative ideas.
We immerse, understand and design fresh strategies. Integrate diverse skills and build new systems and experiences. Create a roadmap and radical communication strategies to spread powerful ideas fast!
spread.strategy
Design Research, Business Strategies and Design Systems
spread.design
Live brands with unique touch points and experiences
spread.digital
Digital strategies, guides and technologies, campaigns and immersive experiences
spread.film
Digital content, photography, films and shorts
Spread has been working on all aspects of the Brand and Experience of the GMR New Goa International Airport, on creating, curating and setting up Projeto Goa. Plus partnering on creating film programming for the airport.